THE GENUINE PORTLAND EXPERIENCE
COME AND STAY AWHILE
Located in the charming Parkside neighborhood, The Francis Hotel & Spa offers 15 uniquely designed guest rooms and a small spa in a beautifully renovated historic mansion.
The Francis is locally owned & operated by fourth-generation Mainers and has been a part of the Portland community since 2017. We can't wait for you to come experience Portland and see all the reasons why we love this amazing city.
Book NowCALL: (207) 772-7485
Stay Explore Relax
The Francis provides a unique blend of historic charm, modern amenities, comfortable rooms with plenty of character, a welcoming, dedicated team & a location that can't be beat. Take advantage of our 24/7 text concierge during your stay to get insider recommendations from our team of locals on all the best food, drinks and activities Portland has to offer. The Francis has a four-story elevator, pet-friendly rooms, complimentary parking and flexible cancellations.


The perfect location
Experience everything Maine has to offer
At The Francis you are perfectly positioned to experience the best of Portland and the Maine coast. The Old Port is walking distance from the hotel and there are countless options to get outside and hike, bike, fish, kayak, sail, practice yoga and more within a 30 minute drive of The Francis.
Dine at Wayside Tavern
Open since July 2021, Wayside Tavern is located right next door to The Francis meaning you don't have to walk far to enjoy a delicious meal. Their menu features dishes with French and Italian influences and celebrates all the incredible natural gifts Maine has to offer, from local seafood to meat to specialty cheeses. Their cocktail list and thoughtful wine program are also not to be missed. See their menu & make a reservation.
Our Community
Last summer we collaborated with Indigo Arts Alliance on an art installation project across the street from The Francis and we encourage you to go view the work during your stay. Indigo Arts Alliance is a Portland based non-profit that embodies a Black-led, multicultural approach to the rich intersections of citizenship, community-building and creativity. Read more here.
What People Say
We love our guests and they love us back
Gem in Portland!
So glad we stayed at the Francis on a recent weekend getaway to Portland. The hotel is charming, the rooms are large, the service was great, and there are wonderful small touches throughout the property. The surrounding area is less touristy than near those hotels in Old Port, but we found that to be a net positive. There are a number of excellent bars and restaurants within walking distance (try Hot Suppa, Bao Bao, and The Bramhall). Would definitely stay here again.
Lovely Boutique Hotel
Accommodations were great - room was comfortable & clean. Staff was helpful & welcoming. The location was good for sightseeing - we were able to walk around Portland from there.
Perfect getaway
The Francis is a beautiful boutique hotel with friendly and knowledgeable staff. Staff went above and beyond to make sure we were comfortable Rooms are very clean and unique , Bose speaker to use while taking a shower. The Francis is so conveniently located close to the downtown Portland shops and just across from a great bakery and coffee shop... this is a must stay ... we will definitely be back.
Favorite place in Portland
Great place to stay. Staff was wonderful. Clean and new accommodations. We were able to get an early check in and a late checkout via text message. I would recommend getting the Terrace if possible!!!
Super friendly staff!
Our stay was during the covid19 pandemic. The staff was super friendly and due to limited numbers of travelers, we felt like we had the place to ourselves. It feels like a hotel meets bed and breakfast. There is a lot of charm and character and it is cozy. Great beds and wonderful showers.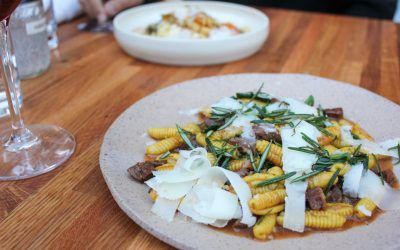 Want to enjoy a quiet and cozy night in your hotel room and still experience Portland's famous culinary scene? Here are our top picks for dinner take-out in Portland, Maine. .01 // LEEWARD, 85 FREE STREET There is something so comforting about freshly made pasta....